Today I am so excited to be taking part in
Mom's Crazy Cooking
Challenge. Thanks Tina so much for doing this!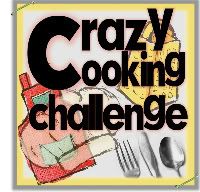 Our first challenge was mac-n-cheese. We take a recipe that we have never made before, cook it up, share it with our readers, link up to the party, and have everyone vote for their favorite (don't forget to "like" my recipe--shameless I know but I have amazing readers!)


I found this lovely lady at
The Curvy Carrot
. Isn't that such a fun name. She has some great recipes, and a fun blog, go check her out and say hi!
I have shared with you before how much we love homemade mac-n-cheese at our house. The box stuff doesn't really cut it. We need real cheese and real butter, mmm...delicious.
Plus mac-n-cheese is one of those timeless meals. I remember it from my childhood and I know my kids will remember me making them homemade mac-n-cheese.
One of the reasons I think it is timeless is because of all the variations. I mean you can make mac-n-cheese with pretty much every kind of cheese known to man; cheddar (the varieties in this family alone are amazing), pepperjack, havarti, bleu, colby, parmesan, ricotta, and list goes on with cheeses most of us didn't even know existed.
Not to mention the ways to make it. We could have a whole discussion on ways to make this fantastic meal. You can bake it, microwave it, add mustard or evaporated milk, jalapenos or red pepper flakes to make it spicy, or sour cream, cream cheese, and cream.
Then you could move on to the vegetables; spinach, corn, mushrooms, peppers, onions, peas, and so on.
What about the meats? Bacon--so delicious, ham or tuna--totally gross in my opinion but my dad loves it.
Can you see why I love this meal and it's classic nature?
Today I wanted to share something that goes along with what I was talking about, so many different ways to make this lovely food. Did you ever think about putting it in pie form?
I didn't until now and why not! It is be perfect as an appetizer or even as a main dish. They are just the right size to hold in your hand or if you don't like your hands messy, use a fork. They are absolutely delightful especially with the ritz cracker/cheese/butter crust. It adds such nice flavor and a little crunch, mmm...so yummy!
Mini Mac-n-Cheese Pies
1 and 1/2 c. Ritz crackers, crushed (1 whole sleeve--I used my food processor and it worked great)
2 c. white cheddar cheese, grated and divided
4 Tbsp. unsalted butter, melted
4 and 1/2 c. cooked elbow macaroni (about 8 ounces uncooked)
One 5.2-ounce container of Boursin Garlic and Herb cheese (I found mine at Costco)
2 Tbsp. unsalted butter, cold
2 large eggs
1/2 c. milk
1/4 c. sour cream
1/4 tsp. salt
Pinch red pepper flakes
Parsley, for garnish, optional
1. Preheat the oven to 350 degrees. Generously spray cups of your muffin pan with non-stick cooking spray.
2. In a large bowl, combine the crushed Ritz crackers, 1 cup of the shredded white cheddar cheese, and the melted butter, mixing well until the mixture holds together and resembles coarse sand. Divide the mixture evenly among the muffin cups and, using your fingers or the back of a spoon, firmly press the crust into the bottoms of each muffin cup.
3. In another large bowl, combine the cooked, and still hot macaroni with 1/2 cup of the shredded white cheddar, the Boursin cheese, and the butter, mixing well.
4. In a small bowl, combine the eggs, milk, sour cream, salt, and red pepper flakes, mixing well. Add the egg/milk mixture to the cooked macaroni, mixing until all the ingredients are melted and smooth.
5. Place about 2-3 tablespoons of the macaroni mixture into each muffin cup. If you have any leftover macaroni you can save it and bake it separately, if desired. Top each muffin cup with the remaining white cheddar. Bake the mac and cheese pies until lightly golden on top, about 20-25 minutes.
6. Let cool slightly before removing from the muffin pan, garnish with parsley, and serve immediately. Enjoy!
Source:
The Curvy Carrot
Now onto the rest of the mac-n-cheese recipes. Check them out, leave some love (comments :), and vote for my mac-n-cheese pies!